Eurasia will bring the world to multipolarity
Primary tabs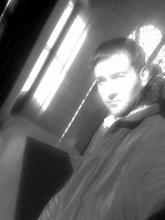 Eurasia will bring the world to multipolarity
(An interview with Jordanian writer Rami Amer Dabbas by Natella Speranskaya)
An interview with Rami Amer Dabbas, the Representer of International Eurasian Movement in Jordan and the Leader of Eurasian Union of Youth in Jordan.

Natella Speranskaya: How did you discover the Fourth Political Theory? And how would you evaluate its chances of becoming a major ideology of the 21st century?

Rami Amer Dabbas: Hello Natella , firstly I discovered the fourth political theory by coincidence from you and professor Alexander Dugin from facebook, one and half year ago to be honest I don't have real practice in politics but I started to believe in many theories before that so I like it !
Well, you need to practice each one of the theories you know so its lead you to conservatism I asked myself is this theory as professor explained, for me? Seems yea after reviewing the theories you know it's like Holy Spirit you believe in something you get the spirit of it so what we have here cultures (European/Christianity - Eurasian/Christianity -Islam)
So yea the chances are high money for everyone for example simple Russian can get money and their own orthodox national Stalinist bolshevist culture another example Arabs they have money and Islam so yes chances are high it just an examples .

Natella Speranskaya: Leo Strauss when commenting on the fundamental work of Carl Schmitt the Concept of the Political notes that despite all radical critique of liberalism incorporated in it Schmitt does not follow it through since his critique remains within the scope of liberalism". "His anti-Liberal tendencies, – claims Strauss, - remain constrained by "systematics of liberal thought" that has not been overcome so far, which – as Schmitt himself admits – "despite all failures cannot be substituted by any other system in today's Europe. What would you identify as a solution to the problem of overcoming the liberal discourse? Could you consider the Fourth Political Theory by Alexander Dugin to be such a solution? The theory that is beyond the three major ideologies of the 20th century – Liberalism, Communism and Fascism, and that is against the Liberal doctrine.

Rami Amer Dabbas: the answer of the first question as explained in the fourth political theory an example liberal methods that is used to liberate people from the cultures, you can use the same methods but to serve conservatism. You know human evaluated until he/she started to use internet in the end, the strongest weapon is the media & it depends on the community there are many retarded communities which don't know how to use internet but that's one example.
The answer of the second question yes again each person each country lives by laws and theories and people or country practice these theories & laws on him/her self / itself so you need to get the main ideologies in order to stand against postmodern world against neo-liberalism so for example I am ex-Muslim I would practice Muslim methods against Muslim with fascism without communism in case I live in Muslim community but with knowing laws of the country & community where I live and to know which real laws applied on me !
It's like this fourth political theory on EURASIA WITH MAIN THREE IDEOLOGY.

Natella Speranskaya: Do you agree that today there are "two Europe's": the one – the liberal one (incorporating the idea of "open society", human rights, registration of same-sex marriages, etc.) and the other Europe ("a different Europe") – politically engaged, thinker, intellectual, spiritual, the one that considers the status quo and domination of liberal discourse as a real disaster and the betrayal of the European tradition. How would you evaluate chances of victory of a "different Europe" over the «first" one?

Rami Amer Dabbas: yea, there is two Europe's. Now the politics are not allowed except those who serve the NWO but each conservative organization considered as terrorist or neo-Nazi even its not. You know communist fear fascist or the fascist side of conservatism but who calls these organizations as terrorist one THE Government which serves the liberation of each community so 50% for each side.
"There is nothing more tragic than a failure to understand the historical moment we are currently going through; - notes Alain de Benoist – this is the moment of postmodern globalization". The French philosopher emphasizes the significance of the issue of a new Nomos of the Earth or a way of establishing international relations. What do you think the fourth Nomos will be like? Would you agree that the new Nomos is going to be Eurasian and multipolar (transition from universum to pluriversum)? I believe in case the globalizations won you know it's too easy to control 5 people more than 10 its real slavery anyway. The answer yes I believe in Eurasia will bring the world to multipolarity also you can add after that I believe in triple -world which atlantist west as first and Eurasia also china as third so the second and the third against first and the second united with the third in one side.

Natella Speranskaya: Do you agree that the era of the white European human race has ended, and the future will be predetermined by Asian cultures and societies?

Rami Amer Dabbas: unfortunately yea
ASIAN CULTURES ARE THE FUTURE

Natella Speranskaya: Do you consider Russia to be a part of Europe or do you accept the view that Russia and Europe represent two different civilizations?

Rami Amer Dabbas: Russia is Europe and Asia they have something mutual but basicly Russian civilization came from Europe you can add the both have new mission which to stand against NWO & neo- liberalism to save their civilizations.

Natella Speranskaya: Contemporary ideologies are based on the principle of secularity. Would you predict the return of religion, the return of sacrality? If so, in what form? Do you consider it to be Islam, Christianity, Paganism or any other forms of religion?

Rami Amer Dabbas: yea religion will back and the sacrality yea also will be back and as Stalin's said:" I WILL BE BACK" but in Europe will back in anarchy way in Russia it too dangourous so you need to be smart . About what religion Islam or Christianity or paganism its easy christianism paganism & Islamism paganism.